Welcome to PROSPECTUMS world of trendy reading glasses, sport- and sun glasses...
We work goal orientated to always have a strong competitive assortment to cover most tastes and needs for both our customers and in the end for most consumers. We are the company which will give you close service and engagement which you need.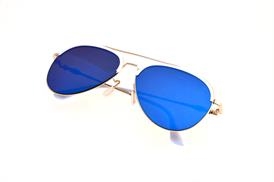 Art.no. 1788 Metalframe in Pilot design. Gold with white details and blue REVO-lens and in metal with black details and grey lens (pgr. 5)
We launch 7 new models in our sunglass assortment for 2018 and most of them is in 2 colour shades each.